Selected Urdu Language poems of Javed Javed.
As for poets, the misguided follow them. Have you not seen how they stray in every valley of thought, like a camel with false thirst? And that they say what they do not practice? But there are those who along with believing (in revelation), set things right in the society, remain mindful of God´s commands, and stand up for their rights. The violators of human rights will soon come to know how viciously their affairs get overturned. [A´maal Saaleh = Actions that create balance in the society = Acts that remove deficiencies = Helping others = Increasing individual and societal potential. Wantasaroo = They support their just cause = Defend themselves = Stand up for their rights = They help create a just social order with no room for oppression]. QXP - Qur'an - 26:224-227
O You who have chosen to be graced with belief! Remember God with much remembrance. And strive to establish His glory on earth morning and night. He is the One Who bestows His blessings upon you, as do His angels, that He may bring you forth from the depths of darkness into the light.And He is Compassionate to those who choose to believe. QXP - Qur'an - 33:41-43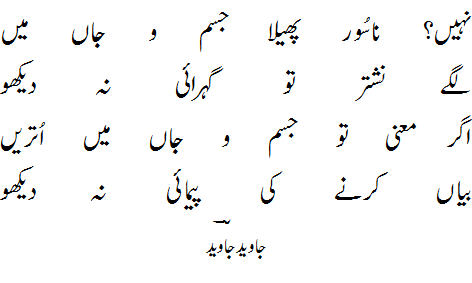 Isn't it Cancer dispersed in Body & Soul?
When make a cut; do not care about the depth.
If meaning penetrate in Heart & Soul,
Do not look into the Measurement of Speech.
Read! With the Name of your Lord Who created. Created man from a zygote. Who has taught the use of the pen. Taught man what he knew not. Nay, man tries to play God! Qur'an (QXP) - 96:1-6


Pen! The Tongue of Heart

The writing/speech/poems of Javed's heart by pen makes Hypocrite and Mushrik
weep & cry.
It overthrows/demolish the Idols in Kaaba by Pen.
My Speech would not be stoped/enslaved by the barriers of Illiteracy,
O Mullah/Priest! My speech does not stay here but also goes to Allah.
Qur'an is open in my Heart! Illiterate & ignorant would not understand,
Speech of Heart comes on the Tip of Pen without any fear.