O Muslims of Muhammad (S)!
Can you call any building, a Mosque of Allah & Muhammad (S) which is bought, constructed or rented with Alcohol & Swine Money and managed by Alcohol & Swine dealers?
If your answer is NO than all your prayers are null & void in that building which is effectively Masjid e Zarar and you are opposing the commands of Allah & Muhammad (S) deliberately and as per Qur'an can be called Enemy of Allah & Muhammad (S) and Fuel of Hell.

And there are those who put up a mosque by way of mischief and infidelity― to disunite the Believers and in preparation for one who warred against Allah and His Messenger aforetime. They will indeed swear that their intention is nothing but good; but Allah doth declare that they are certainly liars. Qur'an of Muhammad (S) 9:107
According to Sunan Ibn-I-Majah Volume 3, Book of Intoxicants, Chapter 30 Hadith No. 3380.
It was reported by Anas (may Allah be pleased with him), that Prophet Muhammad (pbuh) said: "God's curse falls on ten groups of people who deal with alcohol. The one who distills it, the one for whom it has been distilled, the one who drinks it, the one who transports it, the one to who it has been brought, the one whom serves it, the one who sells it, the one who utilizes money from it, the one who buys it and the one who buys it for someone else."

Grangetown Muslim Cultural Centre
2a Clydach Street, Grangetown, Cardiff, Glamorgan, CF11 7AF Phone: 029 2023 9166
Capacity: 1050 (men only)
Pakistani-Deobandi

No Alcohol & Swine


Jalalia Mosque and Islamic Education Centre
Machen Place, Riverside, Cardiff, Glamorgan, CF11 6EQ
Phone: 029 2022 1309
Capacity: 700 (men only)
Sufi - Bareilvi-Bangladeshi

Alcohol & Swine ???


UKIM - Jamie Darul Isra' Mosque
21-23 Wyeverne Road, Cathays, Cardiff, Glamorgan, CF24 4BG
Phone: 029 2034 4073
029 2049 5587
Capacity: 600 (including women)
Maudoodi-Pakistani

No Alcohol & Swine



Shah Jalal Mosque and Islamic Cultural Centre
Crwys Road, Cathays, Cardiff, Glamorgan, CF24 4NJ
Phone: 029 2048 0217
Capacity: 525 (including women)
Sufi - Fultoli-Bangladeshi

No Alcohol & Swine


Jamia Masjid Bilal
61-63 Severn Road, Canton, Cardiff, Glamorgan, CF11 9EA
Phone: 029 2039 7640
Capacity: 500 (men only)
Deobandi-Pakistani

No Alcohol & Swine


Al-Manar Centre
2-4 Glynrhondda Street, Cathays, Cardiff, Glamorgan, CF24 4AN
Phone: 029 2022 6607
029 2049 4359
Capacity: 420 (including women)
Salafi

No Alcohol & Swine


Masjid Uthman
37 Plantagenet Street, Riverside, Cardiff, Glamorgan, CF11 6AS
Phone: 029 2022 1309
Capacity: 300 (men only)
Deobandi-Pakistani

No Alcohol & Swine



Noor ul Islam Mosque
Islamic Court, 17 Maria Street, Bute Town, Cardiff, Glamorgan, CF10 5HH
Phone: 029 2049 8435
Capacity: 270 (including women)
Arab Mainstream-Somali

No Alcohol & Swine


Masjid-e-Zawiyah
1 Alice Street, Bute Town, Cardiff, Glamorgan, CF10 5LB
Phone: 029 2046 0243
029 2048 0684
Capacity: 250 (including women)
Sufi-Arab-Yemeni

No Alcohol & Swine



Al Ikhlas Centre
92 Broadway, Adamstown, Cardiff, Glamorgan, CF24 1NH
Capacity: 200 (including women)
Salafi

No Alcohol & Swine


Rabbaniah Islamic Cultural Centre
31-33 Clare Road, Riverside, Cardiff, Glamorgan, CF14 6HZ
Capacity: 200 (men only)
Deobandi-Pakistani-Pakhtoon

No Alcohol & Swine



Masjid-e-Umar
68 Connaught Road, Roath, Cardiff, Glamorgan, CF24 3PX
Phone: 029 2048 8454
Capacity: 180 (men only)
Deobandi-Pakistani

No Alcohol & Swine



Salafi Bookshop & Islamic Information Centre. Not used for all 5 prayers.
Bookshop, has a musallah for about 30 people.
148 Penarth Road, Grangetown, Cardiff, Glamorgan, CF11 6NJ
Phone: 029 2022 5044
Capacity: 30 (including women)
Salafi

No Alcohol & Swine


Shia Islamic Centre
22 Salisbury Road, Adamstown, Cardiff, South Glamorgan, CF24 4AD
Shia - Twelvers - Iranian

No Alcohol & Swine



Imam Ali Centre
Locked outside of normal Shi'a prayer times. Former St Stephen's Church, Mount Stuart Square, Bute Town, Cardiff, South Glamorgan, CF10 5LG
Phone: 07957 448337,
07877 055187
Shia - Twelvers

No Alcohol & Swine
Mosques in Newport, Sects & Alcohol & Swine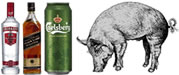 Hussaini Mission
Also known as, or co-located with: Jamia Masjid Kingsway and Commercial Road, Newport, Gwent, NP20 1EN
Phone: 01633 252511,
01633 243413
Capacity: 1000 (including women)
Shia - Pakistani

No Alcohol & Swine


Shah Poran Bangladeshi Jame Mosque
51-52 Hereford Street, Newport, Gwent, NP19 8DT
Phone: 01633 243413
Capacity: 800 (including women)
Sunni - Bangladeshi

Alcohol & Swine ???


Imam Bargah Masjid, Muslim Community Centre
Capacity 500 is a guess.
Former United Reformed Church, Victoria Road, Newport, Gwent, NP20 4EQ
Phone: 01633 243871
Capacity: 500 (including women)
Shia - Pakistani

No Alcohol & Swine



Jamia Hanfia Rizvia Mosque
183-186 Commercial Road, Newport, Gwent, NP20 2PP
Phone: 01633 662096 (since 2004), 01633 215420
Capacity: 350 (including women)
Sufi - Bareilvi - Pakistani
(In Dispute)

Alcohol & Swine Sect


Al Noor Mosque
23a Harrow Road, Newport, Gwent, NP19 0BU,
Phone: 01633 662032 (since 2004), 01633 53590
Capacity: 200 (men only)
Sunni - Pakistani
(In Dispute)

Alcohol & Swine Sect


Masjid at-Taqwa
Alexandra Road Mosque
Capacity 100 is a guess.
20 Alexandra Road, Newport, Gwent, NP20 2GY
Phone: 01239 215420,
07737 555679
Capacity: 100
Salafi

No Alcohol & Swine
---------------------------------------------------------------------------------------------------------------------------------------------------------------------
Javed Javed exposing paedophile and child sex groomers of zani harami mosque or masjid cardiff